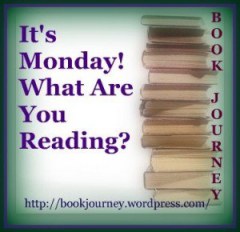 It's Monday, and that means the Sheila at Book Journey is asking what we're reading. So, onto it!
I have finally recovered from the craziness that is NaNoWriMo. I wrote a novel, just over 50,000 words long, in the month of November. It was Vampire Queens of Long Beach and it was the first time I didn't edit major portions and start over in a really long time. Also, I paced myself and was a bit lazy so I literally had to race to the finish. It was also my first win WITHOUT the real help from a local group. I usually participated in something, but this year I did not. I was, however, very grateful for my friends in the Rubber City Book Posse keeping up the morale. I miss that book club–is there any way we can move everyone there here for once a month or so?
And this guy also helped:

So, anyway, apart from this, the last time I posted, I have also been catching up on Arrow, Gotham and The Flash… Love DC Comics being on TV. Very excited to see how they work with these series. Also, love the show Gracepoint. It has a British show, called Broadchurch, that's also pretty cool.
And, unfortunately, I've gotten hooked on American Horror story. I am on the 4th season (thank goodness for Amazon's Season pass service!). It was great while I was writing–it greatly contributed to the mood of my novel.
So, onto books. Because I realized I have 13 books to read for my Goodreads Challenge this year (125 books).
Big Little Lies I have had on my Kindle, I think I bought it on sale a few weeks ago. Have heard good things about the author.
Star Wars: Crucible I have as a paperback. Part of the Star Wars Legends series. I think my husband wants to read this, so am trying to rush through it.
A Tree Grows in Brooklyn I read this every year–I adore this book. And the new, special edition by Harper Collins is both beautiful and functional.
Find Me I'm Yours I have this in ebook format, it's a click lit book. And, Hillary Carlip really liked my review of one of her last books, so I had to buy this.
Also I mentioned it on my old blog, LOL. Maybe it was a myspace video?
Anyway, that's what I want to start the week reading. I am not even going into the graphic novels right now, so you know this is serious!
Anyway, here's to being back to the land of blogging.
What are YOU reading this week?
Put your blog link below and I'll come and visit you as well.