GothamGal is a devoted comic fan. Reading comics from an early age (TinTin, Archie, Katie Keene and much more), she has recently revisited her old interest and is branching out into the streets of unread comics and graphic novels! While she favors DC Comics, Marvel is slowly winning her over—but Vertigo, Image and IDW have so many new things to offer, she might just say she's a comic fan—with no labels. She fights for literature, education and the right for ALL to read comics!
It is no joke that I love Bill Willingham's Fables series. I reviewed vol 8, 1001 Nights of Snowfall and Fairest Vol 4 most recently. The series is just about ready to celebrate it's 150th issue, and will be ending shortly (which is sad), but I love that there are some great collections in the graphic novel format that can stand the test of time (and that I don't have to worry about bagging and boarding!). I picked up Fables: Volume 9: Sons of Empire recently, and I love to savor these books as much as possible.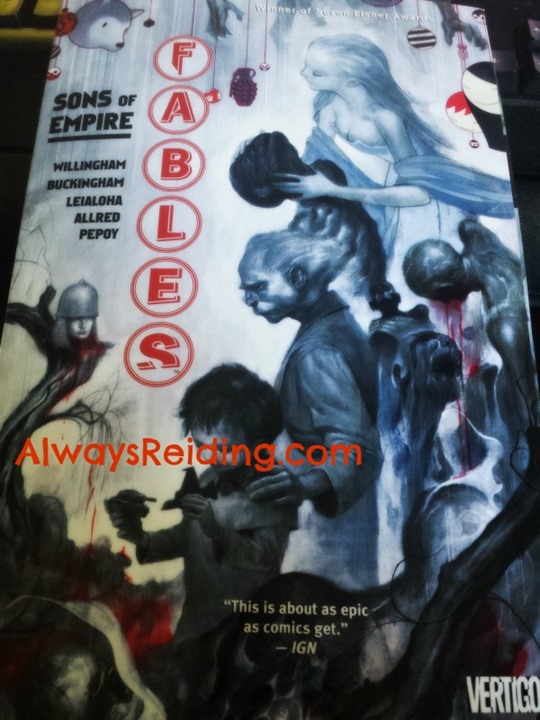 Taking place directly after the events of Bigby Wolf's 'secret mission' in volume 8 (Wolves), we open to the Adversary (Geppetto) and Pinocchio are digging through the ashes of the fire that decimated their woodshop home and the grove of enchanted trees that allowed Geppetto to create the magic marionettes. They decide to call together enemies of Fabletown, in the Homelands, including the Snow Queen, the Gnome King and more. As they plot on their Fabletown revenge, Hansel (the first Fable to be kicked out of Fabletown for his gross misdeeds) settles near Fabletown as a representative of the Adversary.
As they plot, the story goes to the North Pole, with a very magical Christmas story, with an appearance by a certain attempted burglary of Santa's naughty and nice lists, as well as a heartwarming plotline featuring one of the cubs (and an explanation of how the man in red does it all in one night).
I loved how they explained the backstory for Hansel, and made it seem so natural—seriously hardcore amazing writing. Also, I am interested in learning more about Red Riding Hood and what she is doing in Fabletown.
Overall, Sons of Empire has enough of the storyline and strong-writing fans of the series come to expect, coupled with some great and heartwarming images that are sure to stay with readers for a long time.
At about 200 pages, this volume is a great deal in paperback, and will in no doubt be collected in the hardcover editions. However, the paperbacks provide a bite-sized and easily digestible piece of Fables history and a great addition to a personal library.
You can pick up your copy of Fables Volume 9: Sons of Empire at your favorite retailer today—hurry and catch up!