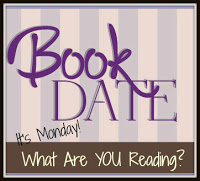 Each Monday, The Book Date asks what we're reading… Please visit the site to link up your current list and hold yourself accountable. Also, you can visit some great blogs who are also doing this meme… It's pretty awesome.
In the last week, I read 4 books–I am super happy about this, as two were on my list for last week!. So, without further ado, here are the books I am currently reading! I want to pick up the pace, I've been able to hit 8 books read in a week, so we'll see if that works out. I have noticed my audiobook consumption has gone up since I use them on my commute.
I am doing some catching up–I want to get more space on my Kindle (the two books on the left and center) and I really want to finish the Ghostbusters book. The Rosemary book has some things that I was not yet certain of, as well as some things I already knew about. It is sad that she was lobotomized. I wonder what she would have been 'diagnosed with' in this day and age.
Be sure to stop by The Book Date and find out what others are reading, and be sure to post what you're reading, too!