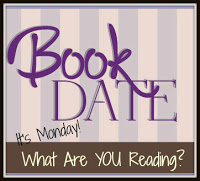 It's Monday, What are you Reading?
Each Monday, The Book Date asks what we're reading…  Please visit the site to link up your current list and hold yourself accountable. Also, you can visit some great blogs who are also doing this meme… It's pretty awesome.
Last week, I worked on my work-life balance. And I was super happy with the results. I helped a family member at a doctor's office by getting off of work a little early and even got a job offer with that (but it's not what I'm currently looking for right now).