The Ripped Bodice Delivers Love
(in More Ways than One)!
We always hear how important it is to take care of ourselves, but it has really come into play as we determine our new normals in light of Covid-19. Puzzles, games, books–the arts have done their part to keep us entertained. The Ripped Bodice is going above and beyond in their quest to be the awesome, independently-owned bookstore you need. The Ripped Bodice is delivering LOVE in more ways than one!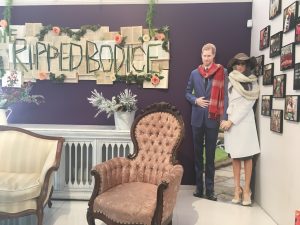 The Ripped Bodice is the brainchild of sisters Bea and Leah Koch, who raised $91,000 on Kickstarter to make their dream of opening the United States' first exclusively Romance only bookstore. They were hailed as booksellers of the year by the Romance Writers of America in 2017. The store has been featured in Entertainment Weekly, Hello Giggles, the Los Angeles Times, and more.
While I am not traditionally a romance reader, I kept hearing about this store. I have a good friend who LOVES romance and kept trying to get me to read more and more. I hit up the LA Times Festival of Books a few years ago and met the team–this is a story for another day, but just know that I was compelled to visit the Culver City store because of my positive experience. And the physical store does not disappoint. There is something for everyone–they host events, have great new books that you'll love, and have an amazing grasp of the genre, so they can help you find the perfect book. I feel like this is one of my top three FAVORITE Indie Book stores, and with good reason. The store is just so welcoming–and that's in-store and online.
Apart from their physical store, they have an active Patreon that gives subscribers insight into behind the scenes happenings. Additionally, depending on your level of membership you can get swag and recommendations of your 'perfect' book. I haven't utilized this feature yet, but if it is anything like the care package I received, anyone who utilizes this service is going to be happy! It's cool to see the details about the store, and you get content like chapters being read to you and flow charts of books to read based on a trope or genre.
During their closure, the Ripped Bodice started offering fully customizable care packages. I had heard good things from my friend, and after a really bad care package experience earlier this year I was understandably hesitant. But seriously… The Ripped Bodice Care package is amazing. You get to pick from new or used books and customize a variety of ways (including swag, tea, and even cards). They invoice via Paypal and they'll give you a total. And their shipping options are just that–options. The Ripped Bodice is sure to work with you, which is refreshing, on the best things for your shipment.
I got an awesome, personalized card (you can customize it for someone or have them write a message). They also sent a few bookmarks and a card thanking me for my purchase. I received a used book, it's Chasing Perfect by Susan Mallery. For used books, you can choose from a variety of options. I also got two new trade paperbacks as a surprise–Truth or Beard by Penny Reid and Star Crossed by Minnie Darke. These are all new-to-me authors (I'm pretty new when it comes to the genre), but I think they sound awesome to me. I'm excited to get into them (truthfully I'm already about 1/4 of the way done with the Penny Reid book). Overall, this care package was awesome, amazing and I love it. As someone who loves reading, but also finds it hard to find the next book I want to read, the Ripped Bodice provides a great service, with a lot of care and a lot of love (and that's not just between the pages).
To visit The Ripped Bodice (or to order a care package), please visit their website at https://www.therippedbodicela.com/ for more information, including their updated store hours. I can't wait to see what treasures you find, or what you are sent!
If you want to see more about how I feel about these books, be sure to follow me for updates, or follow me on Instagram and see what I think of them.