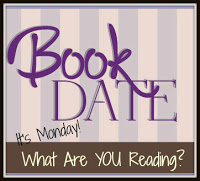 It's Monday! What Are You Reading
Each Monday, The Book Date asks what we're reading via It's Monday, What are You Reading?… Please visit the site to link up your current list and hold yourself accountable. Also, you can visit some great blogs who are also doing this meme… It's pretty awesome.
In the last week, I continued to not read as much as I had hoped… I am trying to get back into the swing of things since my vacation. And, in fact, I've been really sick. Unfortunately, because of all the things needed at work, I have only had a little time (over the weekend) to relax and feel better. Weirdly enough, I'm not READING as much as I should be, either. Gross! I really need to have some me-time this week to regain my footing in the reading venue.
This week, I'm featuring the books I am reading electronically via my Kindle. I've had my Kindle since January of 2013–and it still shows no signs of stopping. I love that it keeps up with me and my participation in It's Monday! What Are You Reading.
The Whole Town's Talking is a book by Fannie Flagg (who I have loved ever since Fried Green Tomatoes at the Whistle Stop Cafe) and when I heard it was available as an ARC, I knew I had to pick it up. So excited to share this with you readers. The other two books are books I purchased for my Kindle, because the page counts don't take up priceless real estate. Stephen King's It is continuing to be a bear no matter what format I choose to read it in–I'm about halfway through it and there are parts of the book that I completely forgot about. How funny is that? Prince Lestat is picking up a little, but I have a feeling that Anne Rice is going to be doing the same drawn-out thing with her next in this series–when the vampires go into Atlantis (I have tried, but could not get an advance copy, which makes me think my fears for this series are warranted).